Dr. John Groves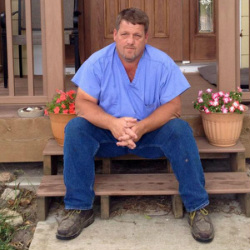 Dr. John Groves earned a BS degree in Agriculture at the University of Missouri, as well as his DVM degree from the University of Missouri College of Veterinary Medicine where he also received the English Practitioner Award. He is a graduate of the Beef Cattle Production Management Series from the University of Nebraska. He recently spoke at the annual meeting of the American Association of Bovine Practitioners regarding the relationship between beef producers and veterinarians. Dr. Groves is married to Dr. Ingrid Haas and has 2 daughters.

Dr. Groves has been in private practice for 21 years, including 15 as the owner of Livestock Veterinary Service in Eldon, Missouri, which is in the central part of the state. Dr. Groves has specialized in beef cattle production medicine focusing on large, progressive registered and commercial herds with emphasis in optimizing production efficiency in all phases of management. Also, Dr. Groves works with stocker operations that range from short term starting operations to grazing and retained ownership programs to help producers maximize their production capabilities.

Dr. Groves has worked extensively with many of these operations to add and maintain record keeping systems to help them measure the effectiveness and efficiency of the programs that they are working with. He has also implemented computer-based record keeping systems with his clients to aid them in their business evaluation across all sectors of the production chain.
---
---
Dr. Melissa DePriest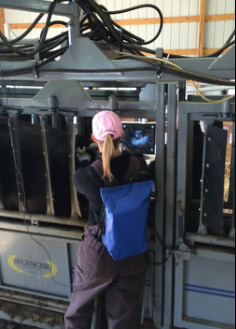 Dr. DePriest grew up in Savannah, Missouri and attended college at the University of Missouri-Columbia. She graduated with an Animal Science BS degree in 2009 and a Doctor of Veterinary Medicine(DVM) degree in 2013. Dr. DePriest focused on food animal production medicine and surgery in school. She worked as a mixed animal practitioner at the DeWitt Veterinary Clinic in eastern Iowa following graduation, in which most of her time was spent with cow-calf operations. Dr. DePriest joined LIvestock Veterinary Service in March 2014 and works nearly exclusively with beef cattle. Dr. DePriest is very passionate about agriculture and enjoys working with cattle and farmers.

In the photo to the left, Dr. DePriest uses a hands-free ultrasound to diagnose a pregnancy in a beef cow.
---